Airtec® Cases
Increased productivity and less waste with air humidification
Low humidity has had a negative impact on the productivity of the BV Trappen for some time. With an air humidification system from Airtec®, the wastage percentage was reduced - and the positive effect on the indoor climate could be felt after only a few hours.
22/06/2020 00:00:00
In May 2020, BV Trappen in Snedsted, Denmark, installed an air humidification system from Airtec®, based on a thorough site assessment and on-site visits. The initiator of the project was Keld Rølle Lauridsen, production manager at BV Trappen, who got free hands from the company's management to deal with a problem that had a negative impact on productivity: Low humidity.
BV Trappen is one of Denmark's largest manufacturers of wooden stairs - all made to measure applying the highest standards of craftsmanship. The strings are manufactured from pine, while treads and handrails are made of hardwood according to the customer's specifications – mostly oak, ash or beech.
BV Trappen is a healthy and well-run company, and they wanted to increase productivity further with a solution that could eliminate the well-known problems related to low humidity: desiccation of raw materials, periodical high wastage rates (winter) and a dry indoor climate for employees in the production area.
Keld Rølle Lauridsen joined the BV Trappen in 2016 after working for many years in the window industry. "From past experience I knew everything about wood and humidity - there are industry-specific standards of air humidity when making windows. So, when we were looking for a humidifier supplier, I contacted Airtec®, whom I knew well from my previous job."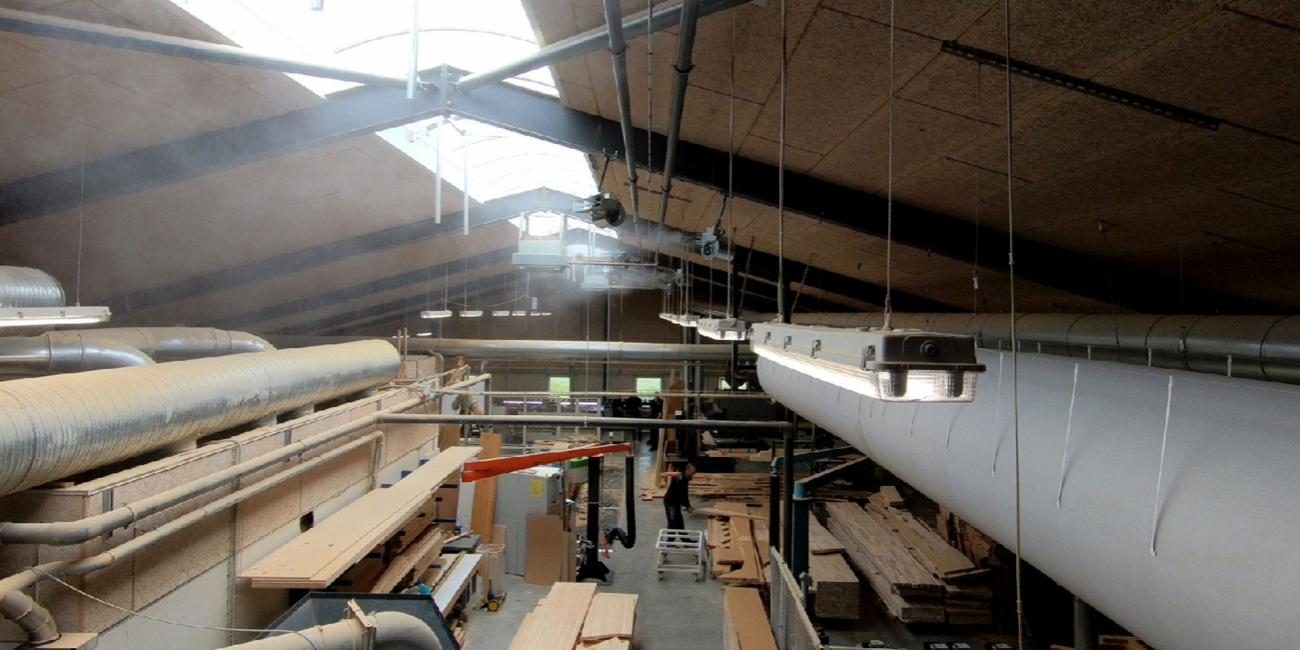 A winter problem
It is especially in winter that the problem with low air humidity arises. A relative humidity of 20% was often recorded in the production facility, which meant that the wood could change shape before and during processing.
But the employees solved this problem in alternative ways during production - and they had become accustomed to the fact that at times production problems related to low air humidity would appear. The company saw an opportunity to increase productivity by handling these fluctuations in humidity, and Keld Rølle Lauridsen therefore consulted with four different suppliers of humidification systems but ended up choosing Airtec®.
"It's all about finding the best price-quality ratio. The dialogue with Airtec® was fine, because they were very knowledgeable and professional. They only said nice things about their competitors, but they argued well for their own solution - based on data and facts. I liked that. So, they got the job."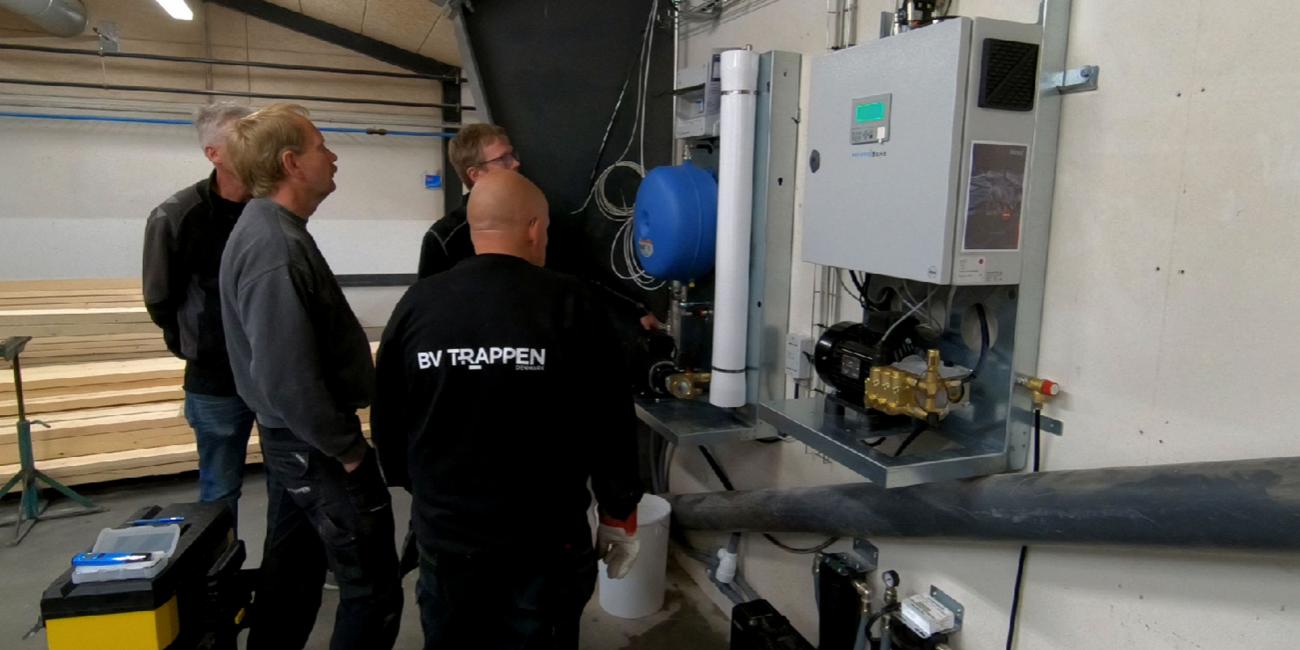 CNC milling with perfect results
Because BV Trappen's employees are experienced and deliver a very high craftsmanship standard, they were able to circumvent the problems caused by the low humidity. But in terms of productivity, BV Trappen wanted to reduce waste.
One production engineering problem was the CNC milling of large wooden boards. Here, the boards, which can be up to six meters long, are mounted on a suction table which holds them firmly during the milling. But because the boards had often warped, it was difficult to make the suction table work perfectly - and the boards would come loose during machining.
When a single boards of this kind costs up to several thousand kroner, and when you have to discard on average one each day during winter months, the cost goes up, and a disproportionate amount of time is also spent on starting over repeatedly.

Minimal waste in the future
Another problem was in the production of the stringers for the stairs, which are made of pine and are glued together. Due to intermittently low air humidity, the finished stringers would sometimes bend or warp, and this had to be corrected afterwards. "That problem is completely gone. Now that the humidity is under control summer and winter, we can count on our raw materials to hold on to dimensions and not to crack or warp. This means that our waste will be minimal in the future," says Keld Rølle Lauridsen.
The positive effect on the indoor climate also came almost immediately. "Just a couple of hours after the system had begun operating, I had already received the first reactions from people in the production: they could simply feel that the air was no longer so dry. We had raised the relative humidity from the 20% to the 45% calculated by Airtec® as the optimum. It almost immediately increased the well-being of our employees. "
Keld Rølle Lauridsen has no doubt about the value of the investment: "It's worth it. Everyone is happy and satisfied, we have got a much better indoor climate, we have eliminated a lot of problems in our production during the worst periods and have cut back on waste. This system will pay for itself."
Contact an Airtec

®

specialist today to hear more