Airtec® Cases
Kastrup Vinduet - Quality windows require humidity control
Air humidification systems are required in the production of windows to avoid drying out the raw material and to ensure the perfect result in the painting process. The Danish producer of quality windows Kastrup Vinduet A/S has selected Airtec® to supply humidity control for their new production facility.
14/04/2020 00:00:00
The Nordic window industry has a tradition for using wood as the primary material, and it places a great demand on how the product is handled during the process from raw material to finished window.
Air humidification systems are therefore a standard element in window production to maintain 100 % control of the relative humidity in every step of the process, partly to prevent the wood from drying out, and partly to maintain optimum conditions for the painting and curing of the windows.
In 2018, as the Danish producer of quality windows Kastrup Vinduer A/S was to set up a new production facility, there was no doubt of the importance of having a reliable air humidification system installed. This was supplied by Airtec®.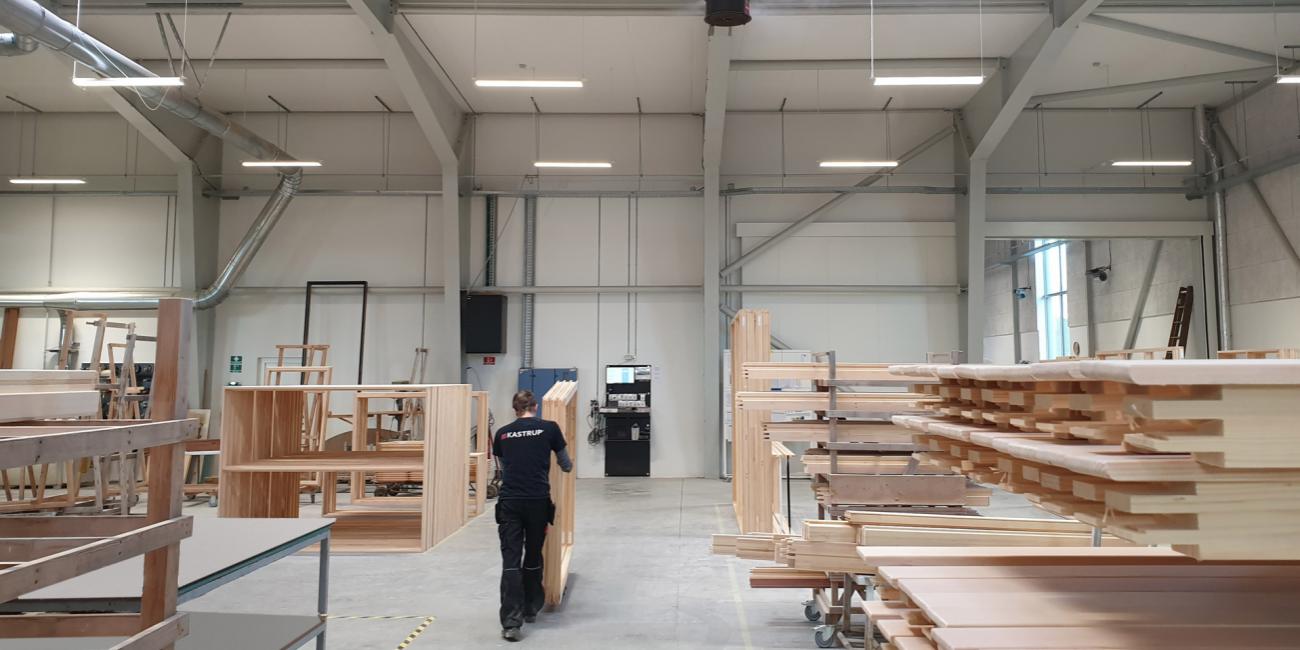 No shrinkage or drying of the wood
Regnar Roslev, LEAN and project manager explains: "There are mainly two phases where we need to have full control of the humidity: During the processing of the wood and during paint processes."
Wood is a natural material, and raw material can have wind cracks and contain pockets of resin that have to be kept under control until the window is finished and painted or varnished.
As long as the wood is untreated – until the final product is sealed in paint – the wood will absorb or release moisture to the ambient air. This will affect the dimensions of the wood and the mechanical properties – and its lifespan. Raw material and the sub-components need to be maintained in an accurate ambient humidity, considering the very precise tolerances in window production as well as the lifespan of the product.
The wood cannot change dimensions nor shape in the process, and this requires that the equilibrium between the water content in the wood and the ambient air is maintained at all times.

Optimized painting process
One of the two zones in the window production where Airtec® has installed air humidifiers is in the paint and lacquering line, located next to the wood processing. Here the technology maintains an ambient air that ensures the paint blends and dries properly-
This requires air humidity to be maintained at the required level of 55 % RH, regardless of outside weather conditions. Once the window surface is treated, the wood will be protected from the surrounding environment and will remain stable. At this point humidity control is no longer required.

Productive environment and minimal waste
Ultimately, the installation of an air humidification system is about minimizing product waste, optimizing the production environment and maintaining a good indoor climate for employees, machines and raw material. Therefore, it matters who you choose as a supplier:
"We were talking with several suppliers of air humidification systems," Regnar Roslev states, "but Airtec had supplied our previous system and in the end they were chosen. Airtec® stands out by being flexible and by showing great understanding of the challenges that always occur during a building site project with many technical suppliers. It is important to be able to adapt during the process and to be ready when the time comes. In this case Airtec® had to supply and install within a two-week time frame, and they did. Safely and professionally and at a competitive price. "
Regnar Roslev also emphasizes Airtec´s service concept as a clear advantage. "Their maintenance agreement is top notch and we were able to get a maintenance agreement with them that exactly meets our demands for precision, reliability and professionalism."​
Read more about Kastrup Vinduet A/S at https://kastrupvinduet.dk/
This is why air humidification is a demand in window production

A requirement according to DVC and DS/EN 14351-1
Prevents wood drying out and eliminates the risk of visible wind cracks and resin pockets in the final product.
Makes it possible to work with very precise tolerances and demands of 100 % accuracy
Creates conditions for a perfect paint job
Kastrup Vinduer A/S
– New production facility with humidity control
Production of wood windows, paint and storage
Installation specifications

Installation year
2018
Recommended air humidity (RH), %
55
Natural airchange per hour, %
20
Room volume, zone 1 (wood processing), m3
12,960
Room volume, zone 2 (paint line), m3
3,888
Control and high-pressure pump
1 x HydroSense™, 2 zones
Water treatment
1 x RO
1 x Softening system
2 x Mechanical filter
Installation, zone 1
4 x HydroJet™
Installation, zone 2
10 x HydroTrio™
Required capacity, l/h, zone 1
89.7
Required capacity, l/h, zone 2
2150.70
Contact an Airtec

®

specialist today to hear more