AHU Solution
An AHU solution (Air Handling Unit) is a duct-based air humidifying system integrated in a ventilation system, adding vaporized water in the form of mist to the airflow.
This type of air humidifying system is typically used in commercial buildings such as offices, museums, theatres, hospitals etc., where control of air humidity is essential both for the wellbeing of people and for the preservation of material and equipment.



A duct-based or AHU (air handling unit) humidifying system works by adding water mist to the airflow in an air duct. Central to the system is the air handling unit itself, shown here in the middle of the lower part of the installation. For a principle diagram, see illustration below.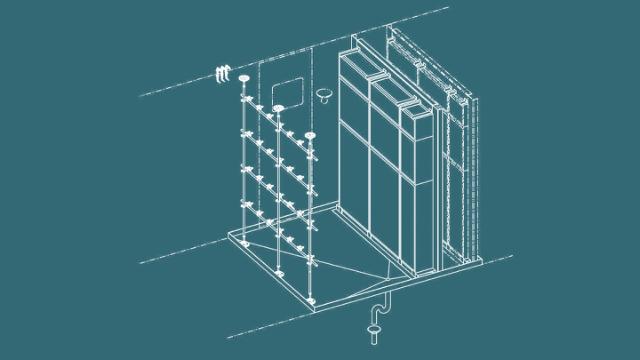 This diagram shows the central part of the duct-based system - the AHU. On the left, water mist in injected into the chamber from the correct distance. The separator pads on the right ensure that no droplets enter the air duct, only water mist. At the bottom is shown a floor drain to guide excess water from the system. The whole system is corrosion-resistant, hygienic and easily servicable.

The control setup in the AHU ensures that the spray nozzles are activated in pairs, allowing the water supply to be adjusted in steps.
System fundamentals
Airtec® AHU products (Air Handling Unit) operate on a modulating control principle.
We have designed a modulating control that always supplies an adaptable water flow to avoid unnecessary waste and variation in the humidity.
The modulating controlled pump atomizes water particles and the evaporative droplet separator effectively and precisely allows only water vapor to pass into the air flow.
The entire system operates with a minimum of wastewater, does not use recycled water and consumes very little energy.
The distance from nozzle to separator can be less than 1 meter, allowing for a very compact systems design.
Features
Evaporation distance down to 600 mm distance from nozzle to filter
Low power consumption (from 2.1 watt per liter of water)
Capacity from 12 to 1200 l/h
1 control unit can handle up to 3 air handling units (AHU)
Modulating volume-controlled water flow (PID)
Ethernet/Modbus standard
Hybrid solution: nozzle spray + evaporation filter
Note: In duct-based air humidifying systems, we always insist on the installation of a reverse osmosis water filter (RO) to mitigate the risk of legionella bacteria growth - read about risk assessment right here.
Contact us and learn more