System Components
All Airtec® high-pressure air humidifying systems are designed with five key factors in mind: Longevity, energy efficiency, hygienic design, operational stability and modular flexibility.


The core of any Airtec® system is the sequence of system components that ensure correct water handling and distribution to the various zones of the in-room or duct-based system. This illustration shows the most common configuration of components. Explore the illustration and the description of the various components below - and do not hesitate to get in touch with us if you want to know more.

1. Water supply and flow in the machine
Drinking water quality standard
Legionella risk assessment in accordance with Danish ministry of environment, report 2004
VDI 6022

2. Mechanical filter
Removes particles larger than 1 µ
Tells a story about the water quality
The mechanical filter (A) will pick up any large particles and can be backed up by a second mechanical filter. During servicing, any miscoloration of the filter can be an indication of the working state of the primary filter.
By visual inspection of the filtrated material, it is possible to spot problems with the water supply itself - please contact us if you are in doubt what to look for.
Depending on the water quality locally, some installations also feature a carbon filter (B) whenever there is a risk of chlorine levels in the supply water higher than local standards. In the illustration, the carbon filter is shown on the right. Some countries add chlorine to drinking water in order to remove health hazards - you can find a complete list of countries using fluoridated water here >>

3. Softening - Duplex
2-chamber softening
Removes Ca, Mg, Mn, Fe (dissolved)
Flow-driven regeneration process
Constant soft water
After the primary filter, the water is treated in a softening unit. The unit removes metal ions like calcium and magnesium that occur as bicarbonates, chlorides, and sulfates which can cause a variety of problems such as fouling or galvanic corrosion.
The softener depends on an ion-exchange resin in which Ca2+ and Mg2+ ions are exchanged for sodium ions. The double-filter system ensures that one filter unit is always in operation, allowing the inactive filter to automatically go through a rinsing process.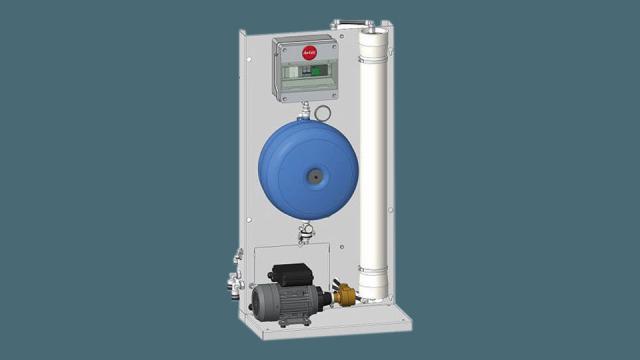 HydroSens™ is a high-pressure pump and control unit, designed to supply water to atomizers and nozzles at a constant pressure of 50 bar. HydroSens™ can supply multiple rooms or zones and will adapt to variable flow conditions.
The pump controls a number of zone-specific valves which are monitored using strategically placed sensors. Once a pre-set humidity point is reached, the zone valve will deactivate and relieve the pressure to 2.5 bar.
This ends the operational mode and activates a draining mode to relieve the nozzles from water pressure in order to prevent dripping.

HydroSens™ basic features
Frequency-controlled pump with a capacity of 4-1200 liter/hour
MODBUS TCP/IP
Datalog (microSD slot)
SafeSens™
HygienicSens™
EnergySens™
InRoom humidity control
SafeSens™ monitors the water flow in each zone, communicating with room sensors, evaluating requirements and aligning system operations to comply at any given moment.
HygienicSens™ monitors pump performance, calibrates water flow, eliminating by-pass recirculation. Automatic rinse counteracts stagnation and unnecessary heating of the water.
EnergySens™ optimizes the electrical performance of the system, trimming pump and ventilator operations.

HydroSens™ optional features
MODBUS RTU master/slave
Scada remote control
Contact us and learn more